Fresh Melon with Jamón Ibérico Summer Salad Recipe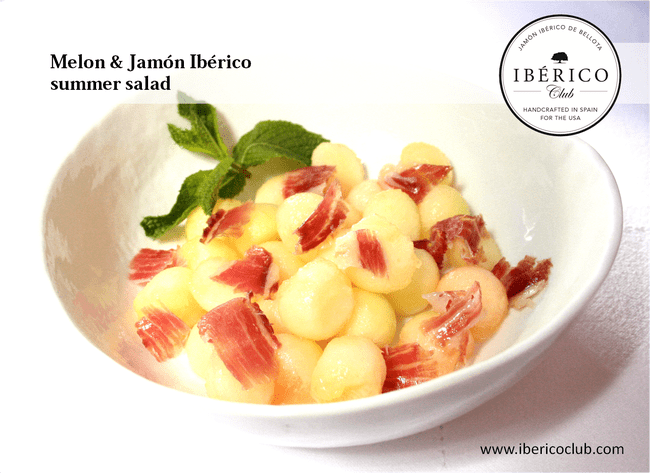 If there's a fruit that pairs perfectly with a good Jamón Ibérico de Bellota, that is melon!
Today, we'll be pairing Melon with Jamón Ibérico, but don't shy away from testing and trying other self-made Melon recipes, as there are tons of ways to combine them both. 🙂
Fresh Melon & Jamón Ibérico Summer Salad Recipe:
How to prepare
Grab yourself a tasty delicious melon! (Our favorite is the traditional melon from Spain, which is called "Christmas Melon,"  or also known as "Piel de Sapo.")
With a small ice-cream scoop, spoon or other kitchen item, make a handful of little melon balls and place them in a small bowl.
Carve some slices of Jamón Iberico de Bellota or if you already have them sliced, cut them into tiny bite-size slices and place them all around and on-top of the melon balls.
Add a few mint leaves for garnish/decoration and to clean your palate.
Sit-down and enjoy this easy delicious recipe that once you try, you'll want to make over and over again.